enthralling grip
until you've closed the cover, and sometimes the book
will never let you go
.
The Night Circus
is like that. And I don't think I'll be able to visit a circus ever again: why? Because it won't reach my new-found expectations.
The Night Circus was stunning.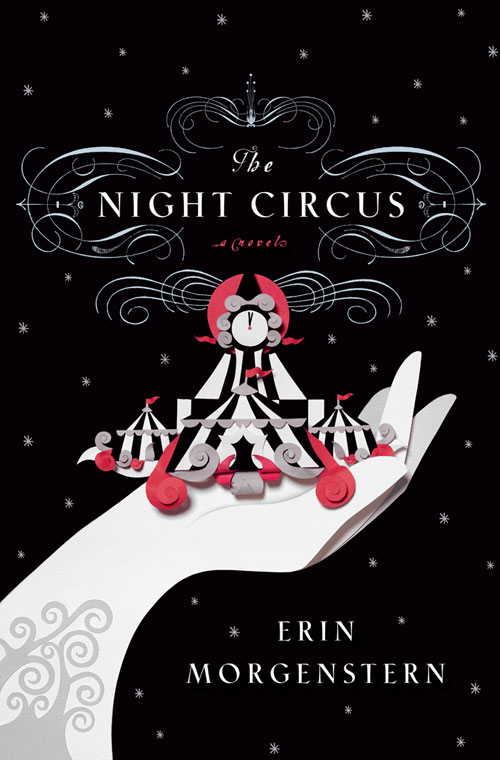 The circus arrives without warning. No announcements precede it. It is simply there, when yesterday it was not. Within the black-and-white striped canvas tents is an utterly unique experience full of breathtaking amazements. It is called Le Cirque des Rêves, and it is only open at night.

But behind the scenes, a fierce competition is underway: a duel between two young magicians, Celia and Marco, who have been trained since childhood expressly for this purpose by their mercurial instructors. Unbeknownst to them both, this is a game in which only one can be left standing. Despite the high stakes, Celia and Marco soon tumble headfirst into love, setting off a domino effect of dangerous consequences, and leaving the lives of everyone, from the performers to the patrons, hanging in the balance.
MY THOUGHTS: The Night Circus
is the most beautifully written,
imaginative
, enchanting,
dazzling
, breathtaking,
charming
, magical,
mysterious
, dreamy - as you can see, the list goes on - book that I have read this year. And I've read a lot of books. But, where to start? I
could
start with the
endearing Miss Celia Bowen
-
the intriguing illusionist
who is taught by her foolish father (Prospero the Enchanter) to perform magic in order for her entry in a twisted challenge. Alternatively
I could start with the
handsome Marco Alisdair
, her competitor, who is educated by the mysterious Mr A through books and studying to unknowingly go up against her...

But preferably I could start with the circus. At the beginning of the book you (the reader) are waiting amongst the anticipating crowd for Le Cirque des Reves to open. There are stunning circus tents (coloured black and white with splashes of red) of all different shapes and sizes, and in the midst of them an intricately designed clock and a sign reading 'Opens at nightfall, closes at dawn'. At first this all seems weird to you, but when the gates open and you all enter, you understand why the name translates at The Circus of Dreams...

The circus is different to all others, and instead of sitting down and watching a show, you find yourself wandering through a maze of tents - each one with its own purpose (performing contortionists, illusionists and lion tamers) - the smokey smell of caramel wafting in the air and the talk of impressed visitors. And, for me, that's what made me love this book: the circus itself. It was rich and intense, bitter-sweet, a dream evoking spectacle. The tale is strong and encapsulates all your senses, it's beautiful but unusual and after every page you're left craving more. And then what happens when the book ends? You re-read, make your friends read it and then make your friends re-read it.

All the incredible stories Erin Morgenstern weaves together poetically (the clockmaker, the reveurs, Bailey and the challenge for Celia and Marco) create a wondrous storyline that is both confusing and perfect at the same time. As you can quite clearly see, I love this book! But, whilst curled up on a deckchair in Spain, reading this novel under the light of the moon and stars, I realised that no matter how magical the setting is, it is unmistakably dark. I don't think I will ever get the haunting whisper of the circus out of my head. Erin Morgenstern has created the best kind of fairytale: one that doesn't quite settle right.


---
Sometimes a book captures you from the very first page and won't let you out of it's